If you have teeth that are not correctly aligned, your Lovett Dental Webster dentist may recommend clear aligners as an orthodontic treatment option. Clear aligner trays are a safe and effective way to reposition your teeth, resulting in a healthier, more attractive smile. To learn whether you are a candidate for clear aligner trays, call Lovett Dental Webster today at 832-932-5584.
What Are Clear Aligner Trays?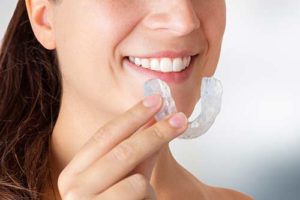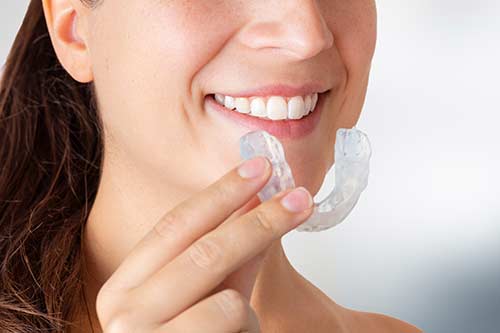 Clear aligners are oral appliances that are used for teeth straightening. They are made of FDA-approved materials that are safe to use in the mouth. The entire course of treatment at your Texas dentist's office will involve a series of clear aligner trays that are custom-fit to your changing teeth and gums. They are referred to as trays because your upper and lower teeth fit into the appliance's cavity. The teeth then slowly shift position as the trays pose gentle pressure on them over time.
Are Clear Aligner Trays Painful?
Clear aligner trays are not painful to wear. While they may take some getting used to, they don't cause pain and discomfort as some other dental appliances do. When your dental care professional treats you with clear aligner trays, you don't need to have any anesthesia, and you can have the treatment right there in the dentist's office. Afterward, you can go on with your day as planned. No recuperation time is necessary.
Benefits of Clear Aligner Trays
The most apparent benefit to clear aligner trays is the results. After a successful course of wearing clear aligner trays, you can look forward to having more confidence due to your beautiful, improved smile.
Another significant benefit of clear aligner trays is their near invisibility. The fact that others will hardly notice that you are wearing them makes them ideal for adults in executive positions, those in the public eye, or anyone else who does not want others to notice that they are wearing an oral appliance.
Additionally, a third benefit is that the wearer can remove the aligner tray. This benefit is also a significant difference between clear aligner trays and traditional braces. The tray can be taken out for teeth brushing, flossing, and rinsing, resulting in better oral hygiene. The tray can also be removed for special circumstances like corporate events, weddings, and other important festivities.
Finally, clear aligner trays are much more comfortable for the wearer than other oral appliances. They are less likely to cause abrasion or irritation, and they do not interfere with eating or speaking.
Am I Eligible to Wear Clear Aligner Trays?
Clear aligner trays only work on certain kinds of dental issues. If you have severe teeth misalignment, clear aligner trays may not be the best solution for you. Clear aligner trays are not able to treat dramatic changes in the way your teeth align. In instances like these, your dentist will suggest some other options. To determine whether you would be eligible for clear aligner trays, talk to your specialty dentist at Lovett Dental Webster.
How Long Do You Need to Wear Clear Aligner Trays?
The length of time that you need to wear clear aligner trays varies from patient to patient. It all depends on how much work is necessary, how well your teeth respond to the treatment, and how well you follow the instructions for wearing the clear aligner trays. In general, minor changes may only take a few months. More complex changes may take up to two years or more. However long treatment takes, most people agree that the lasting results are worth it.
Are you ready to learn more about what clear aligner trays can do for you? Please contact Lovett Dental Webster at 832-932-5584 for more information and to book an appointment. We look forward to hearing from you.